Dal alumni among medical humanities award winners
April 28, 2023
---
The Gold Headed Cane Awards
The Gold Headed Cane Award is presented annually as part of the Humanities HEALS Program at Dalhousie University's Faculty of Medicine. The award recognizes an outstanding Maritime physician who integrates the humanities into their professional life, demonstrates a humanistic approach to clinical care, and acts as a role model in the humanities.
On April 1, 2023, at the Marriot Harbourfront Hotel, the Annual Dr. G.W. Archibald Gold Headed Cane Award Dinner Gala was back in person after a three-year hiatus due to COVID-19. Since it was not possible to celebrate the 2020 to 2022 recipients in person at the time, the event lauded this year's recipient as well as those from the past three years, selected from a worthy group of maritime physicians.
The inspiration for the Gold Headed Cane award is thought to have been taken from a highly respected practice which began in London in the 17th century. A gold headed cane had been carried by a series of distinguished physicians, beginning with Dr. John Radcliffe from 1689 to 1714, who was known by royalty for his skills and considered an exceptional practitioner. Dr. Radcliffe was said to have passed the cane along to a successor and the tradition was continued for more than a century after his death. The cane passed successively to five prominent doctors, before it was presented to the Royal College of Physicians in London in 1825, where it remains on display today. The Gold-Headed Cane Award is a tradition used by many medical schools and societies to acknowledge a physician who embodies the highest standards of excellence and integrity in the medical profession.
The recipients of Dr. G.W. Archibald Gold-headed Cane Award in the Humanities celebrated on April 1st include two Dalhousie Medical School Alumni. For 2020, Dr. Andrew Lynk (Dalhousie Medical School class of 1990), for 2021, Dr. Thomas Baskett, for 2022, Dr. Monika Dutt, and for 2023, Dr. Liz Brennan (Dalhousie Medical School class of 1983).
In addition to brief inspiring talks by the award recipients and their nominators, the event was filled with music and interactive activities. They also had the exciting opportunity to celebrate the humanities more broadly by congratulating and hearing from the winners of the Cynthia Davis Creative Writing Award for undergraduate and post graduate trainees in medicine. Dr. Deborah Ocholi (Dalhousie Medical School class of 2024) read from her winning piece, An Enduring Eulogy, and runners up Matthew Sinclair (PGY1, Family Medicine, Dalhousie University) and Anna Scheidler (Dalhousie Medical School Class of 2023) read excerpts from their works as well.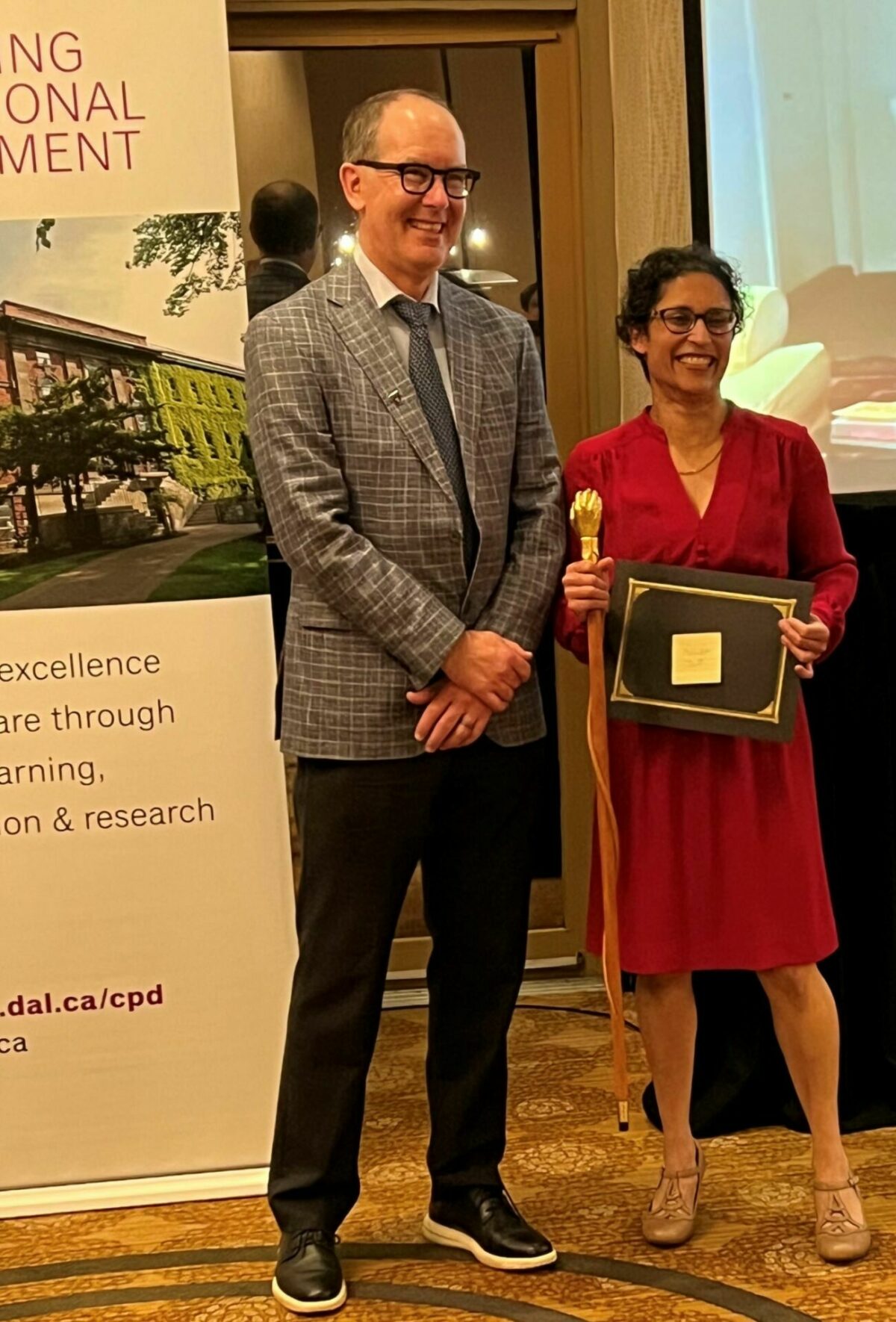 What are Medical Humanities?
Medical Humanities are a unique and growing interdisciplinary field that fuses together arts and humanities with healthcare. Research shows that physicians who participate in humanities are better performing clinicians with improved observation skills, critical and creative thinking, and empathy.
In 1992 the Medical Humanities Program was launched at Dalhousie by Dr. Jock Murray and has been a successful addition to the academic calendar at the University, with one of the leading programs in North America. Medical students, Faculty members, and the community are encouraged to become involved in medical humanities, with many avenues and opportunities to do so.
Dr. Wendy Stewart is the Director of Humanities, Dalhousie Medicine New Brunswick (DMNB) who seeks to provide students and practitioners with opportunities to engage with the humanities to enhance critical thinking, collaboration, and wellness. "Through arts and humanities, we can deepen our understanding of ourselves as people, as learners, and as professionals," Dr. Stewart says.
We often think of physicians and researchers' skills as entirely academic and scientifically applied, when, key competencies in these professions like patient advocacy, communication, and collaboration are challenging skills that can be difficult to teach and measure. "Arts and humanities offer unique and innovative ways for learners to experience these skills," says Dr. Stewart, "and offers a way for us to see things from a different lens."
The History of Humanities at Dal
Dr. Gerald and· Mrs. Gail Archibald developed and maintained an active interest in the Arts and Humanities since their university years. In the 1990's they began to philanthropically support the efforts of Dr. Murray to establish a Medical Humanities program at the Dalhousie Medical School. Eventually, Dr. and Mrs. Archibald also became interested in supporting an annual award for a Medical School faculty member, recognizing either humanitarianism or an active involvement in the Humanities Program. After conducting extensive research, Dr. Murray discovered a centuries-old tradition in England of recognizing an outstanding physician with the presentation of a "gold headed cane" which led to the Gold Headed Cane award was created. This is thanks to the generosity of the Archibald's, whose contribution continues to assist in maintaining an active Medical Humanities program at the Dalhousie Medical School for years to come.
As a tribute to her parents and a nod to continuing a philanthropic tradition, at the 2023 Award Gala, Dr. and Mrs. Archibald's daughter, Carolyn, generously donated and unveiled stunning portraits of her parents to the Dalhousie Medical School, which will be proudly displayed within the Faculty of Medicine. When Ms. Archibald presented the portraits, she got to speak about her parents' legacy, "when my parents were looking for a way to give back to Dalhousie Medical School and Dr. Murray suggested the Gold Headed Cane Award for excellence in humanities, it was a natural fit. As the Award blossomed and the people and projects it supported grew in scope, it became my parents' crowning achievement. They would be so thrilled to see me here presenting these portraits of them and to know how they were being recognized, and their contribution appreciated." Ms. Archibald is proud to see her parents' legacy continue.