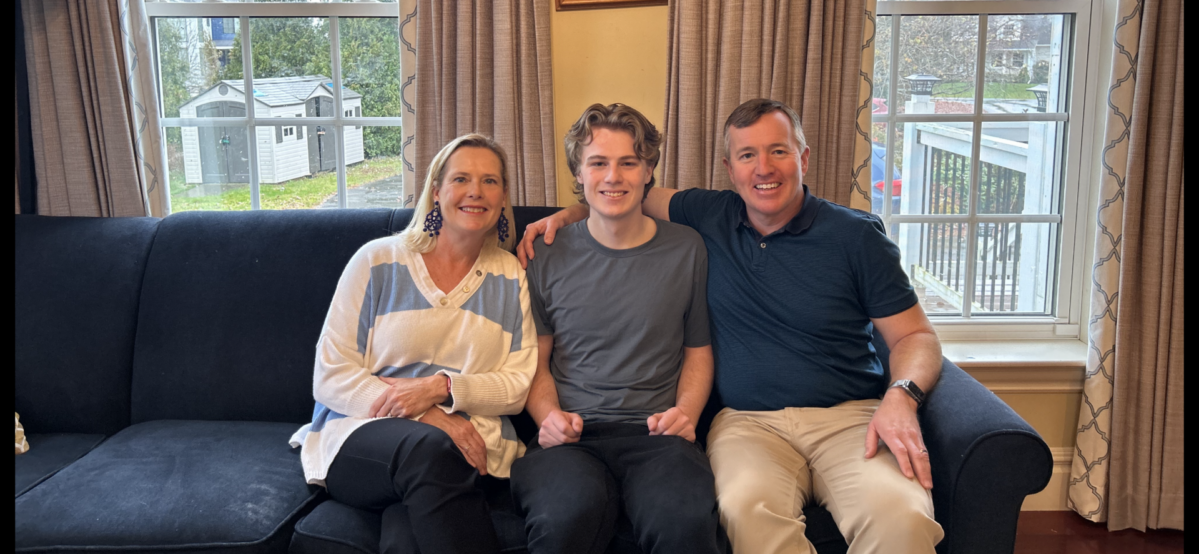 Ewan's Story
Drs. Mark Johnston and Ann Swain have the best reason in the world to be giving back to Dalhousie University's Faculty of Medicine: medical research saved their son Ewan's life.
It was 2017, and Ewan was just 15 years old. He was snorkeling during a family vacation when his parents – both doctors and Dal Med School Alum – noticed something odd. Ewan's snorkeling mask caught on a mole on the teenager's forehead, and the mole began bleeding.
Mark and Ann, who live in Port Williams, N.S. with their seven children, were worried. A week after seeing a dermatologist, the family got terrifying news: Ewan had melanoma.
Doctors immediately removed Ewan's mole and performed further testing. After a follow-up appointment, however, Mark and Ann learned the cancer had metastasized to one of his lymph nodes.
On December 21st —the longest night of the year—PET scans revealed Ewan's cancer had spread to his liver, both femurs, and spine. The family was devastated. Mark and Ann knew that cutting-edge research was their only hope.
Beating the odds
The odds were not in Ewan's favour, but he was about to beat them.
Around the time of Ewan's diagnosis, a new study published in the New England Journal of Medicine showed the combination of two immunotherapy drugs, nivolumab and ipilimumab, were dramatically increasing the survival rates of people with this kind of advanced melanoma. Five years previously, Ewan's diagnosis carried a 5 per cent survival rate. Now, thanks to research, he had a fighting chance.
In January 2018, Ewan began the new cutting-edge protocol. The family was told Ewan was the first person in Nova Scotia to receive the combination treatment.
By March, Ewan was cancer-free. Five years later, he remains in remission. Now, Mark and Ann want to fuel medical research right here in Nova Scotia to ensure more families get access to the groundbreaking discoveries that result in miracles, like the one they experienced.
Fueling medical research
Mark and Ann will be matching every donation made to this Molly Appeal up to $50,000. Your gift today will double the impact to medical research at Dalhousie's Faculty of Medicine.
Mark and Ann hope their family's gift will encourage others to donate, so that together their efforts can change and save more lives.
Stand with Ewan's family by supporting Medical Research at the Faculty of Medicine.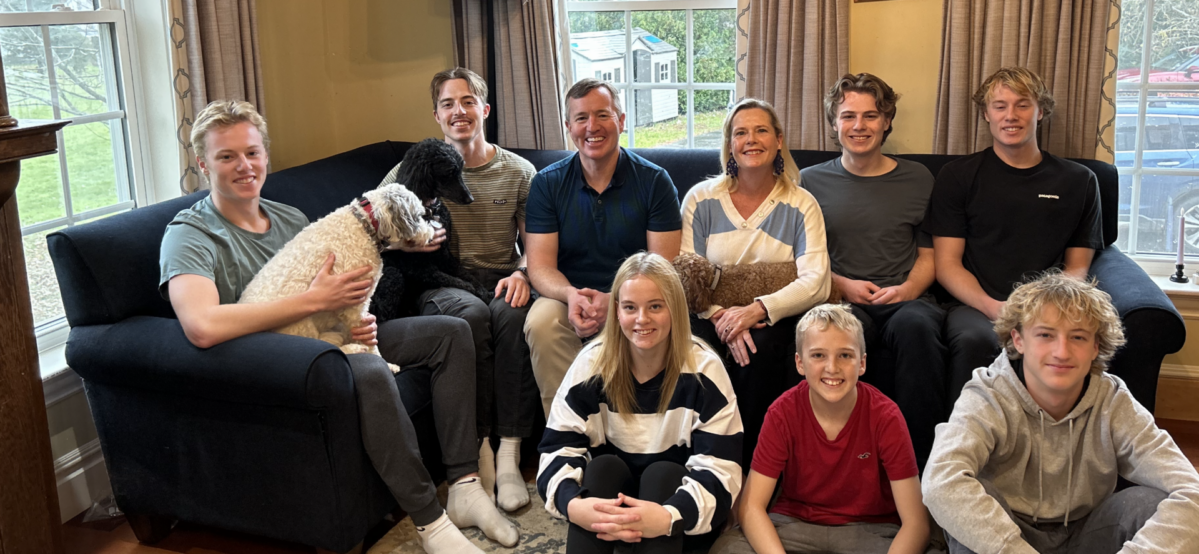 Supporting Research Trainees Leads to Better Healthcare 
Labs at Dalhousie's Faculty of Medicine are made up of diverse, creative, brilliant research trainees. They are the ones in the lab coats, running experiments, and finding solutions to health challenges—big and small. There is a critical need to fund these students, who are at the apprenticeship stage of their careers and need financial support to allow them to be dedicated to their work in the lab. Vibrant labs attract and retain the next generation of medical researchers, and at Dalhousie, we want the best of the best to come here, stay here, and grow Nova Scotia's knowledge economy.

The Faculty of Medicine is embarking on a new era, one defined by our commitment to impact and building healthier communities. We cannot achieve impact without prioritizing the critical need of attracting and retaining the next generation of the best and brightest students—and to attract and retain, we must support them.
- Dr. David Anderson, Dean of Medicine
More funding means a greater variety of people can attend grad school—not just local people of higher
economic status. Bringing out of province and out of country students to Dal brings a diversity of thought and ideas that will make change.
- Dr. Graham Dellaire
Research at Dalhousie is driven by talented graduate students. When I was a trainee, getting student funding had the greatest impact on my career.
- Dr. Roy Duncan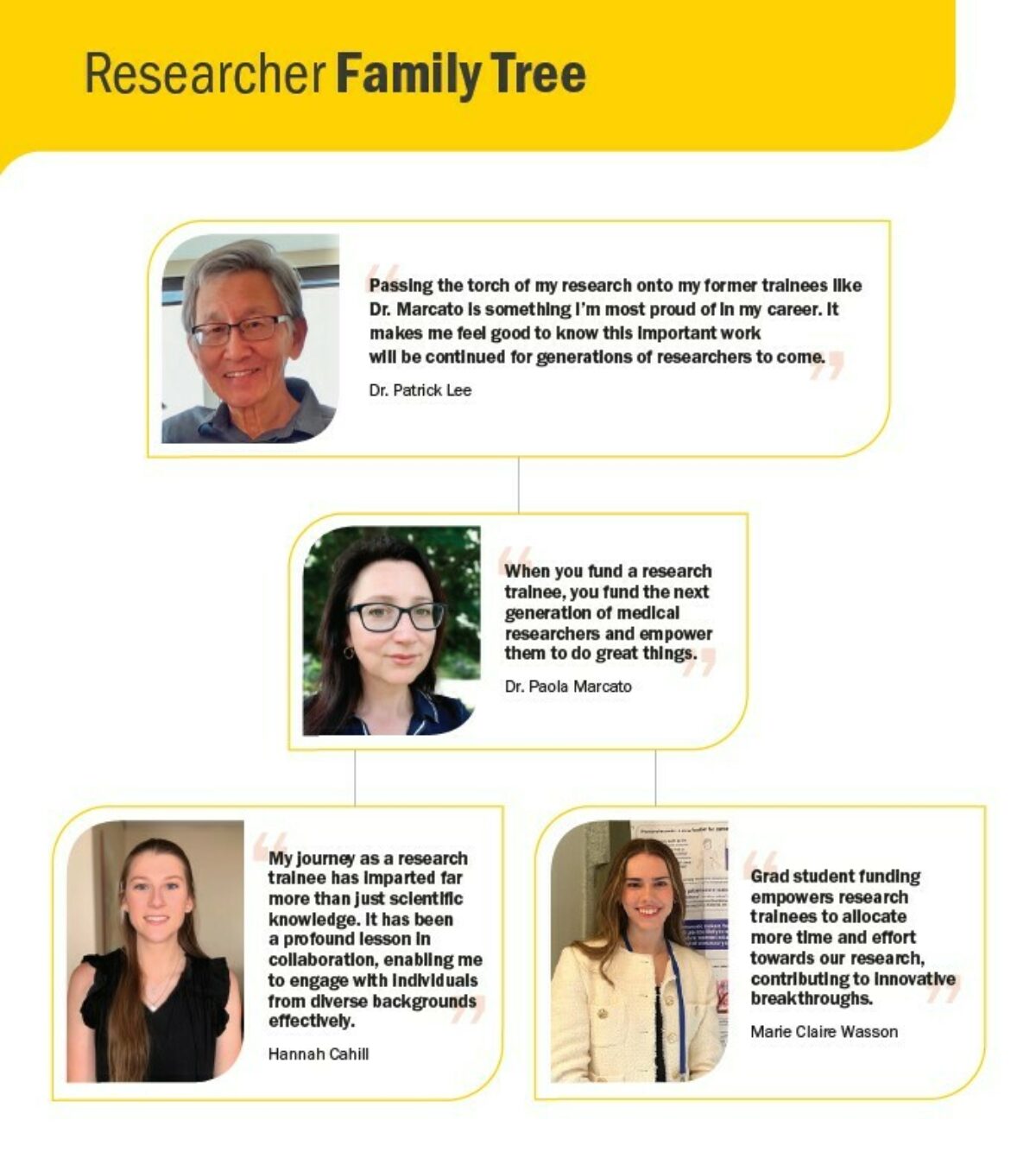 The Molly Appeal is Dalhousie University's annual campaign created to raise critical funds throughout the year in support of local health research excellence.
Molly Moore was a real person who held the spirit of philanthropy in her heart; she also cared deeply about local health research. Over 40 years ago, Molly took a simple but dramatic step. She gave five dollars to Dalhousie Medical Research Foundation (DMRF). While not a woman of great means, she believed that if everyone made a gift to support medical research, together we could make a big difference. Molly's remarkable first step inspired DMRF to launch the annual Molly Appeal campaign in her honour. Molly continued to give what she could throughout her life.

"Research is the best medicine." - Molly Moore
Your gifts to the annual Molly Appeal support health research right here in the Maritimes. Molly's commitment continues to inspire thousands of people to give to the annual appeal, which has raised over $6 million to date.